In partnership with CVWMA, Solarcone is pleased to offer a discount on our organics diversion products to all residents of CVWMA member localities. To take advantage of this discount, follow the "Buy Now" link to enter our store. Supply the coupon code at the payment method step of the checkout process.
PLEASE NOTE: Only residents of CVWMA localities are allowed to participate in this program. If you do not see your zip code listed at the bottom of this page and feel it should be included, please contact CVWMA.


The Green Cone Food Waste Digester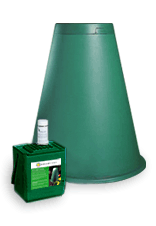 The Green Cone is a unit strictly dedicated to food waste diversion. It accepts all food—cooked and uncooked, meat, bones and oil. It is partially buried in the ground so that the decomposition will disperse nutrients out to the surrounding soil, while worms and micro-organisms migrate back in to accelerate digestion. It is designed to be low maintenance: no turning or adding water, and no end-product of compost. The Green Cone should be placed in a sunny, well-drained area of the yard—preferably in a flower or vegetable garden so that vegetation can take advantage of the nutrient-rich soil.
Solarcone.net Price: $160
CVWMA Price: $81.00 (Includes shipping!)
Enter Coupon Code: CVWMA-C


The Green Johanna Hot Composter

The Green Johanna is a composter that creates high operating temperatures. It accepts both food (ALL food waste) and yard waste—as a matter of fact, it needs both to create high-quality compost. It is not buried in the soil but because it is fully enclosed, it is animal-proof. The Green Johanna continues to actively compost at very low temperatures and preferred placement is in a shady part of the yard. It includes a stirring stick, which is not really used for stirring, but rather for aeration when the summer temperatures become very warm.
Solarcone.net Price: $210.00
CVWMA Price: $165.00 (Includes shipping!)
Coupon Code: CVWMA-J


Terms & Conditions
Your order will be confirmed in 1 business day and will ship in 5 business days. Your credit card will not be billed until your order has shipped.
Zip Codes/Localities Eligible for CVWMA Program
23005
23129
23229
23274
23804
23015
23139
23230
23276
23805
23030
23140
23231
23278
23806
23039
23141
23232
23279
23831
23047
23146
23233
23282
23832
23058
23150
23234
23284
23834
23059
23162
23235
23285
23838
23060
23173
23236
23286
23860
23063
23192
23237
23288
23875
23069
23218
23238
23289
23075
23219
23240
23290
23102
23220
23241
23291
23103
23221
23242
23292
23111
23222
23249
23293
23112
23223
23250
23294
23113
23224
23255
23295
23114
23225
23260
23297
23116
23226
23261
23298
23120
23227
23269
23801
23124
23228
23273
23803